My friend Nicola Isgrow draws these really cute hedgehogs and posts them on social media for her friends to see. I love those prickly little critters. I thought they'd make a cute game, so I asked Nicky if I could make a game using her art, and she said, "Yes."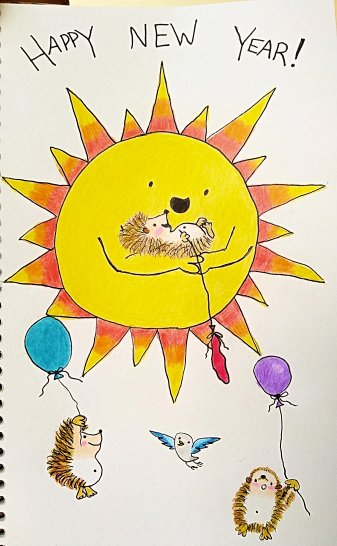 I like this game a lot for several reasons. Nicola's hedgehogs are adorable. Her art captures something that Nicola is a natural at. Being a friend. Love is at the core of everything Nicky does. When I saw her illustration of the sun catching a falling balloon racer on my facebook timeline I was struck by how many times Nicola has caught me, no matter how prickly I was at the time. The precarious nature of balloons and hedgehogs hit home. Life is always on the balance of a very thin line. It is the people that would be there for you if you ever needed them that help you to be strong. Nicola's art animated in my mind right then, and I set out to ask permission if I could use her art. Nicola was kind enough to let me make this game.
Hedgehog Balloon Race is the most hyper casual of any game I have made in the past. I have found it a difficult task to make a simple action that is also challenging and engaging. To balloon race you only need to swipe from left to right as you avoid the other balloon racers. While the game play is simple, the different strategies you have to use to get past all the other hedgehogs is not. Your hedgehog must avoid branches and deal with all those birds that can push you around and crash you into other hogs. At least the gold coins give you the power to knock them all out of your way.
We have been testing this game for weeks and ironing out many details until this little game is nothing less than nifty. I logged over 350 hours designing this game in 22 days. What did several weeks of 16 hour days bring? Lots of way cool surprises! Fun stuff like balloons with unique super powers for you to unlock, owls who will take you for a lift, and adorable fans to cheer you on. It's a gigantic dose of cuteness and fun addictive game play – all for free! Just download and play.
Hedgehog Balloon Race is on Google Play for Android because Nicky has an Android phone and I wanted her to have the game first. I love you Nicola Isgrow. Thanks for being my friend for all these years. Today we published the iOS version so the iPhone folks can balloon race too. Very excited.