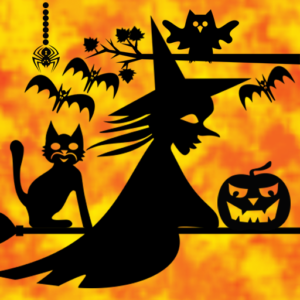 Halloween is my favorite holiday. I love everything about it. Dressing up, fun spooky images, the leaves all turn beautiful colors, and lots and lots of candy! The Broom Hopping game is a celebration of classic Halloween paper cut out art. Remember your teacher giving you orange and black paper, and you had to cut out silhouettes of Jack-O-Lanterns, bats, and cats, and glue them all together into high contrast Halloween cards and decorations? You don't? Well, that's okay. You can play my new game anyway.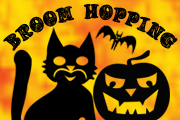 Mark Harvey and I are the recording act, Rain Station, and we wrote a bunch of Halloween songs. Our song, Broom Hopping inspired this game. We imagined a black cat hopping from broom stick to broom stick as witches fly to a Halloween party. I had animated a bunch of these songs for JackOLantern.ORG – but I thought Broom Hopping had to be a game, not just a cartoon.
So here it is. Broom Hopping is a classic Halloween video game perfect for all ages. Game play is simple. You just tap left or right and do your best to help the kitty hop from broom stick to broom stick. You can even hop on the bats to keep you going. If you need a little extra juice, the Jack-O-Lanterns give you a power up so you can survive the owls and spiders. Play against your friends to see who can hop the most broom sticks. If you love cats or Halloween, (or cats and Halloween), this game is for you.