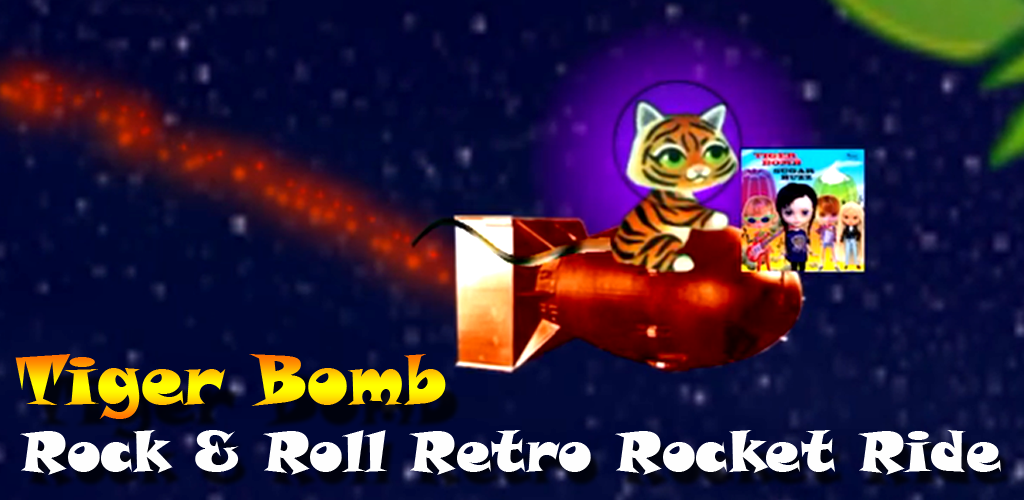 Tiger Bomb for Windows PC can be downloaded at itch.io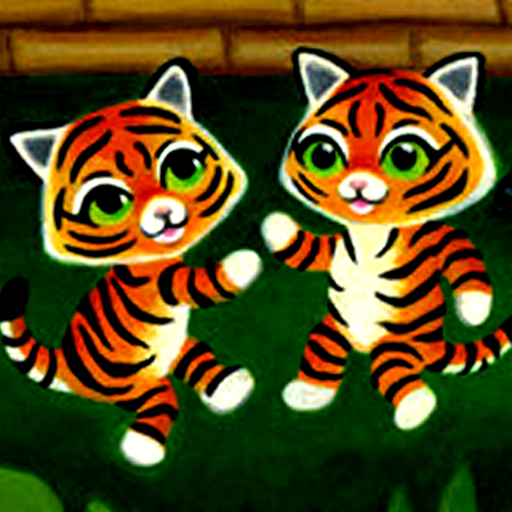 Rock on as a tiny crazy Tiger and try to collect the most points before the song ends. Kick records and shoot Force Field Energy at UFOs and Giants that block your way. Ride rockets and blast into first place at the Tiger Bomb show.
To play Tiger Bomb on mobile you must hold the phone horizontally. Slide your left thumb to move the Tiger forward or backward. Tap your right thumb to hop and jump.
To play Tiger Bomb on Windows PC use your arrow keys for left, right, and to hop up.
Battle UFOs and Giants. You can kick records at them, or you can use Force Field Energy. Force Field Energy momentarily turns you purple and indestructible. While you glow purple, smash into UFOs and Giants to destroy them. Smash right through them!
Ride Rockets. Rockets go really fast and shoot blasters that destroy enemies.
LP = 1 point, Tiki Torch = 1 point, UFOs and Giants are worth 10 points each.
Goal: Collect as many points as you can before the song is over. Top score wins.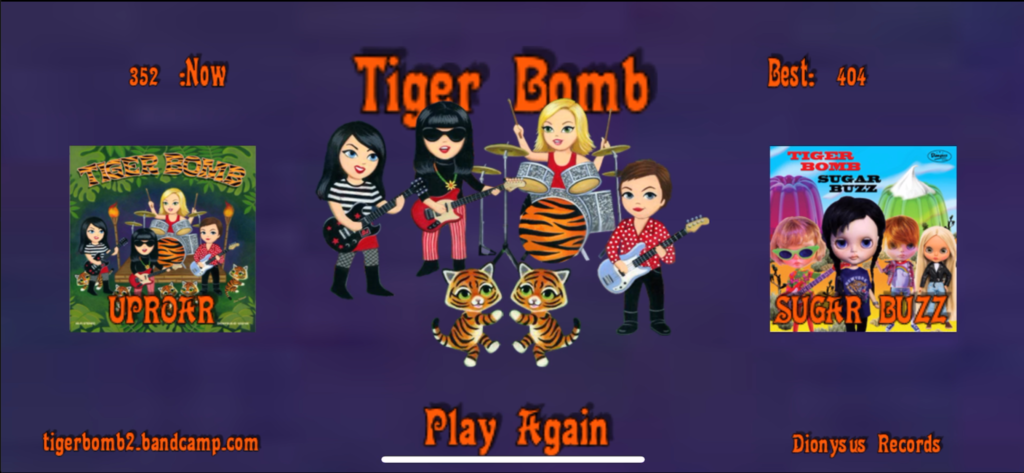 Tiger Bomb is: Chris Horne (lead guitar/vocals), Lynda Mandolyn (rhythm guitar/vocals), Jessica Smith (drums), Amanda Ayotte (bass guitar).
"Astro Girl" ℗ & © 2022 Chris Horne, Published by Bevy Beat Music (ASCAP).
Lisa Petrucci: Band caricatures / Cover art on the 'Uproar" LP.
Mort Todd: Cover Art on the Sugar Buzz LP.
Richard Julio: Coordination & Band Wrangler.
Game concept by Geets Romo. Game dev by J.E.Moores.
FreeAppsForMe.com has reviewed Tiger Bomb at #6 on the list at: Cool Old Game Apps. Thank you!
Tiger Bomb is in the local news! Thanks to Portland Press Herald for the shout out.

Download Tiger Bomb for Windows PC at itch.io