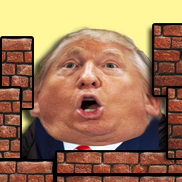 The President and I are having trouble getting our wall built. A few weeks after publishing the app, the team at iOS rejected my Trumpty Dumpty Wall video game for being offensive. The game has no nudity, profanity, or obscenity, but without a doubt, it is a type of political cartoon.
I think they are confusing their frustration with the border wall issue with the appropriateness of my game. We are all frustrated at the government shut down and the impasse the border wall issue has caused. They are afraid some of their users would be offended by the game's content, but there is absolutely nothing offensive to be found in the game. It's parodying Humpty Dumpty building a wall as an allegory to our present situation. It's a classic arcade style game. Whoever stacks bricks the highest wins. It's a game for little kids. It's not offensive. It might be ridiculous, silly, or downright stupid, but it's not doing anything against terms of service, so the offensiveness is subjective and individual.
In defense, my game does not take a side on the border wall matter. I think it's best to let the audience decide on their own. If you are for the wall, you can help build it. If you are not for the wall, you can laugh at how funny the game is. My game has a wider audience by not taking a side. By not taking a side, it cannot offend any specific group. If it is offensive, at least it is equally offensive to everyone.
I love that American citizens can poke fun at their leaders. Humor helps to ease the pressure, and gets the conversation going again. The game is intended to create a dialogue. It is confrontational on a controversial news item, but it is not meant to be offensive to either side of the argument. It's meant to make you laugh, and make you think on your own. Like an American.
This game is available to play for Windows PC free from the kind folks at: itch.io