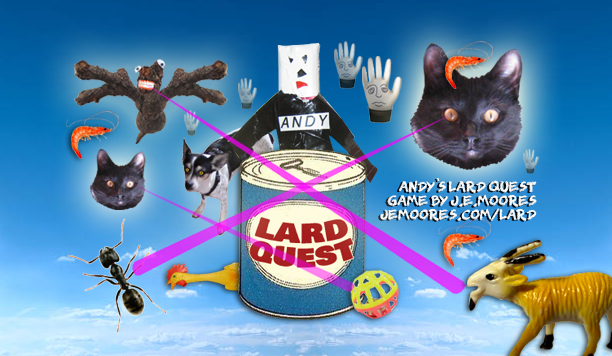 Andy's Lard Quest Rules
The game opens to a menu of heads you can unlock by collecting chickens. The price of each head is under the head. You must play the Egg Man until you collect enough chickens to unlock the other heads. The other heads have different super powers that add to game play.
To play, click play. The interface is simple. Tap to make the character drop. You bounce your head through the platform levels avoiding enemies.
Collect chicken and cans of lard. If you collect 9 cans of lard in one session without dying, you will enter the most awesome Lard Wars level and battle giant kaiju cats for a whole lotta chicken. Once you crash and die, your lard count returns to zero and you return to the head menu with all the chickens you gathered.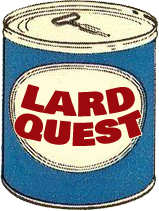 Hot dogs make you invincible. When you eat a hot dog, you turn into an indestructible hamburger. You can smash anything. It feels really good too.
Society the cat tosses some very useful cat balls. When hit, cat balls kill all enemies in sight, but each cat ball you use cost 25 chickens. That's a lot of chickens! Use cat balls sparingly or you could lose all your chickens.
Avoid everything else because it's EVIL! If you touch it, it will kill you. Here's a tip, if it shoots a pink laser beam at you, you must try to let the laser beam touch you. The laser beam powers you up and turns you into an indestructible fish bowl for 3 seconds, and you can beat the beast by smashing it to smithereens.
While you are playing, notice the can of lard in the top right corner. To its right you see a count of how many lard you have collected during your session. If you click the lard can it will bring you to the head menu if you want to unlock or switch to a different head to play.
At the bottom of the heads menu you will see Little Andy flipping out. Once you have enough chickens you can unlock the Bonus Level. Just click Little Andy to get there.
The goal is to unlock all 20+ heads and Little Andy's bonus level.

About Andy's Lard Quest
So I wanted to make a weird indie game from the strange stuff here at my house. First up is Andy, a duct tape voodoo doll my daughter made when she was just a wee one. Now a teen, I told her I was using Andy in my game, and she cringed. So far, so good.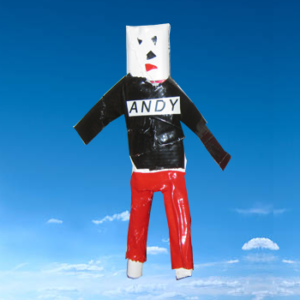 There is Cosmo my dog, and Society my cat. There is a scary stick I found on the ground last summer. I thought it looked like a kaiju monster, so I glued googly eyes on his face and named him Xerxes. Now he's flying around causing all kinds of mayhem in this game! There's a floating rubber glove guy, a tons of ants, and rubber chickens are the currency you collect to unlock everything.
You start out as a fragile egg, and as you collect rubber chickens, you can trade them in for other fancy new heads that have all new super powers and moves.
Once you collect enough rubber chickens you can unlock the Bonus Level where the shrimp are running like mad! With 20+ different heads to unlock and play, and a bonus level to unlock, this insane game will have your friends wondering what the hell you're doing. If they ask, just tell 'em you're on a LARD QUEST!
Game music, To Town I Go by mopehead & Tony Iuppa from: Hauntscapes.com
Andy and other duct tape art by Malaya.
Cosmo the wonder dog makes an appearance. Together they are Time Brats
Nature sounds from: Yellowstone National Park Sound Library